Yasmeen Abdo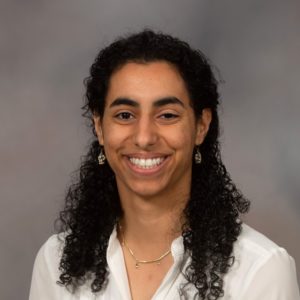 Medical Student, UMMC
Hometown: Madison, MS
BS in Chemistry with an emphasis in Biochemistry; minors in Biological Science, Computer Science, Mathematics (2019)
LinkedIn
"My interest in chemistry developed in high school chemistry classes. I really enjoyed the challenging problems, and I loved how solving them could be used to explain things that happened in the world."
Abdo, an honors student, was involved on and off campus, including Treasurer of the Muslim Student Association, the American Medical Women's Association, Student Chapter of the American Chemical Society, Office of Sustainability, TedxUM, Oxford Film Festival, International Rescue Association, volunteer at the local hospital, and the Mississippi Water Security Institute. She was inducted into Phi Kappa Phi honor society.
Recruited as a freshman by Dr. Gregory Tschumper to work in his lab, Abdo completed a computational quantum chemistry project and received the top undergraduate prize for her research at a regional conference. Her work in Dr. Walter Cleland's lab focuses on the synthesis of nickel based inorganic molecules that serve as ligands potentially applicable in solar cell technology. During a National Science Foundation Research Experience for Undergraduates at the University of Alabama-Birmingham, she studied oncogenic effects of somatic mutations of a zinc finger protein and presented her work at a research expo.
Yasmeen Abdo now attends medical school at the UM Medical Center where she is also Associate Director of the Jackson Community COVID Response Team.
Why study chemistry at UM?
"The professors are really great. They really care about their research topics and are always eager to recruit research students, even freshmen. Once you get to your junior and senior classes, you really develop an awesome support network of chemistry majors that really help make studying chemistry a lot cooler."