Facilities
The Department of Chemistry and Biochemistry is housed in Coulter Hall, which was built in 1977, renovated in 2009 and 2015, and has over 100,000 square feet of floor space. It houses teaching and research laboratories, and a machine shop including glass blowing equipment for use by researchers in the department. The Science Library, housed in the Thad Cochran Research Center adjacent to Coulter Hall, contains more than 20,000 chemistry books and journals and subscribes to more than 140 chemistry research journals. The facilities are available 24 hours a day to our faculty and students.
The Department of Chemistry and Biochemistry also benefits from the presence of several other on-campus research programs and facilities, including the Mississippi Center for Supercomputing Research, the National Center for Physical Acoustics, the National Center for Natural Products Research, and the School of Engineering.
Some of the major research equipment located in the department is listed below:
Nano-Bio ImmunoEngineering Consortium (NIEC) Core Research Facilities
NIEC has established two state-of-the-art research suites at the University of Mississippi (UM). The research core facilities are intended to 1) give researchers access to high-dollar instrumentation that is beyond the scope of support of individual labs, 2) provide the necessary infrastructure to perform cutting-edge research projects at UM, and 3) enable researchers to develop their biomaterials from initial physicochemical characterization all the way through to preclinical efficacy testing. The two core suites (i.e., Biomaterials Characterization and Biomolecular Analysis) are outfitted with the following major instrumentation. Click Here for more information.
Nuclear Magnetic Resonance Spectroscopy (NMR)
Three NMR systems are available with two 300 MHz magnets and one 400 MHz magnet. One 300 MHz instrument and the 400 MHz instrument are equipped with autosamplers and Avance Neo consoles. These instruments have broadband probes for multiple nuclei sensing with variable temperature capabilities. The remaining 300 MHz system is a Fourier magnet and console capable of routine proton and carbon spectrum acquisition. Data is accessible via network connections for at desk analysis. Click Here for more information.
Inductively Coupled Plasma Mass Spectrometry (ICP-MS)
ICP-MS the premier method for determining trace elements and isotopes in a wide-variety of environmental and biological samples because of its low detection limits, high sensitivity, wide linear dynamic range, and ability to measure about 80% of the periodic table. Our department is equipped with two state-of-the-art ICP-MS instruments both from Thermo Fisher: the Element-XR, a high resolution instrument capable of physically separating isobaric interferences, and the X-Series 2, a fast-scanning quadrupole instrument, which is often coupled to chromatography instruments for elemental speciation measurements. In addition, a laser ablation solid sample introduction system (UP213 from New Wave Inc.) allows spatial analyses down to a few microns. Click Here for more information.
Laser-Based Molecular Spectroscopy
In its laser-based molecular spectroscopy suite, the Department has state of the art femtosecond and nanosecond transient absorption spectroscopy (TAS) systems, a high resolution Raman spectrometer, single molecule spectroscopy capabilities, and infrared fluorescence spectrometers. Click Here for more information.
UV-Visible and IR Absorption, and CD Spectroscopy
The Department has Cary 4 and Cary 2290 UV-Visible absorption spectrophotometers equipped with multisample programmable cell compartments and thermostated cylindrical cell compartments, a Cary 5 UV-vis-IR spectrophotometer equipped with a reflectance attachment, a Bruker IFS-66 FTIR spectrometer with a Graseby-Specac grazing angle accessory, an AVIV 62D CD spectrophotometer, an AVIV stopped flow CD spectrophotometer, and a Coherent 899 ring dye laser spectrometer with single-frequency scanning capability.
Traditional Fluorescence and Light Scattering
The Department has a Perkin-Elmer LS-5B fluorometer, a Perkin-Elmer MFP-44 fluorometer, a diode-array based fluorometer (equipped for stopped-flow), and a laser light-scattering system.
Chromatography and Mass Spectrometry
The Department has a number of chromatography and mass spectrometry systems, which are summarized below. Most notably are a Waters SYNAPT G2 ESI HRMS, voyager DE PRO MALDI-TOF-MS, and recently acquired Waters SYNAPT XS HRMS. Click Here for more information.
Calorimetry
The Department has two Calorimetry Science Corporation Model 4200 Isothermal Titration Calorimeters (ITC), a Perkin-Elmer DSC-4 differential scanning calorimeter, a DTA-1700 differential thermal analyzer, a TA Instruments Q2000 differential scanning calorimeter, and a custom built isothermal titration microcalorimeter.
X-ray Diffraction
The Department has a new (installed 2021) Rigaku XtaLAB Synergy-S X-ray diffractometer equipped with a HyPix-6000HE hybrid photon counting (HPC) detector, dual microfocus Cu and Mo X-ray sources, and an Oxford Cryostream 800 low-temperature device. The system features a fast kappa geometry goniometer that allows data collection scan speeds of up to 10°/sec.
Electrochemistry
EG & G Princeton Applied Research Corp. Models 273 and 283 computer-controlled potentiostat/galvanostats, Pine bipotentiostat, equipment for rotating disk and ring-disk voltammetry and UV-vis spectroelectrochemistry.
Electron and Scanning Probe Microscopy
Digital Nanoscope III atomic force microscope (AFM). A JOEL scanning electron microscope (SEM) and energy dispersive X-ray spectrometer (EDS) are located nearby in the Department of Mechanical Engineering.
Computing Facilities
Faculty and students have free access to the facilities of the Mississippi Center for Supercomputing Research which includes several supercomputing platforms. Details can be found here (https://mcsr.olemiss.edu/supercomputers/).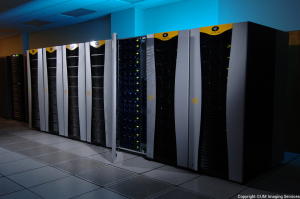 Miscellaneous
Other research equipment available in the department includes numerous glove boxes, an ultracentrifuge and several preparative centrifuges, a capillary electrophoresis system, a Pharmacia gene synthesizer, and an LKB DNA/RNA sequencing unit.
Jim & Thomas Duff Center for Science and Technology Innovation
The University of Mississippi's ambitious initiative to construct one of the nation's leading student-centered learning environments for STEM (science, technology, engineering, and mathematics) education is underway. "There is a critical need to increase the number of graduates in STEM fields to support growth and innovation in our state, region and nation, and strengthen the pipeline for training engineers, tech entrepreneurs, and science and math teachers," Chancellor Glenn Boyce said. The Department of Chemistry & Biochemistry will have a significant presence in the new facility. Click here for more information.