Chemistry Student Ambassador
Skylar Nichols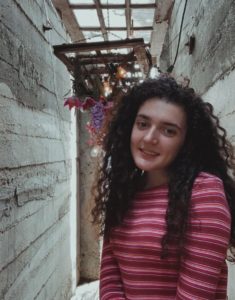 Skylar is pursuing a BS in Chemistry and double minoring in Biological Sciences and Mathematics. She is a member of the Sally McDonnell Barksdale Honors College, the Luckyday Scholars, and a Student Member of the American Chemical Society. She is an undergraduate researcher in the Inorganic and Organic Chemistry Lab. In her free time, she volunteers at the Oxford Animal Resource Center.
Why did you choose to attend UM?
I wanted to attend UM because I had actually heard about how good the Department of Chemistry and Biochemistry was. I had already planned on attending university in Mississippi as well, so it was perfect. The campus is also very beautiful and full of plant life, which is an amazing bonus.
When and why did you choose your major(s)/minors?
I chose Chemistry because I have loved it since I took my first general chemistry class in high school. My high school chemistry teacher was so supportive of me and encouraged me to pursue a degree in STEM. I also chose biology because I love plants and animals, and I think it is interesting to learn about them. I enjoy learning about how living things function and how that intersects with chemistry.
What are your career goals?
I hope to pursue a MD/PhD. I want to continue doing research in chemistry but more on the biochemistry side of things. Also, I want to be able to help people directly by working in the clinical field. Combining the two will allow me to be a more successful and passionate researcher.
Why is your department a special place?
I feel very welcome in this department. I feel this department is very connected despite being one of the larger departments on campus. I have met so many amazing people just from becoming more involved in the chemistry department, and it definitely makes me feel that I chose the perfect place to study.
Is there a professor who has been particularly helpful to you?
Dr. Jonah Jurss has had a huge impact on me. I have done research with him since my freshman year. The research is on artificial photosynthesis and catalysis design. I am grateful to him for giving me the opportunity to work in his lab because I feel that the work is important for our environment and our future. Also, I do not think I would have been exposed to so much of the chemistry world without undergraduate research. The time I have spent in his lab has encouraged me to switch my major to a B.S in Chemistry and inspired me to do more research in the future.
What do you like to do outside of school (hobbies, interests)?
I like to spend time outdoors when I am not working. I love going to the trails and parks here in Oxford. Much of my camera roll is full of plants and animals that I have seen during my time on the trails in Oxford. Also, I enjoy volunteering at the Oxford Animal Resource Center to help the workers take care of the animals, and I love getting to spend time with the dogs and the cats there. This summer I have picked up crocheting, and I have already made a few hats and gifts for my family and friends. Crocheting is fun for me because it is so rewarding to wear or give someone something that you made yourself.
What are some dream travel destinations (and why)?
I have always wanted to visit Iceland, mostly because of the beautiful landscape. I would love to visit the black sand beaches and see the many beautiful waterfalls in the country. India is another country I would love to visit. Many of my friends have been to the country, and from the stories and photos they show me, I know I would love a chance to travel there. Because I am from Mississippi, I think it would be cool to visit these places that are so different from this state in its climate, culture, and landscape.