Chemistry Student Ambassador
Nancy Liu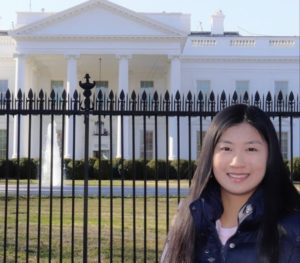 Nancy is majoring in Chemistry and double minoring in Biology and Psychology. She is a member of Phi Kappa Phi honor society, as well as the Coalition for Chinese Language and Culture, UM Garden Club, UM Pre-Dental Society, and Oxford Fencers Club. In her free time, she volunteers with Hill Country Roots, and Grove Grocery.
Why did you choose to attend UM?
I decided to attend the University of Mississippi after hearing about amazing academic programs that they have. When I visited the university during my senior year of high school, I was amazed by how beautiful the campus was and the warm and welcoming atmosphere here.
When and why did you choose your major(s)/minors?
I chose Chemistry as my major because I have enjoyed it since high school. Not only am I interested in the subject, the curriculum for chemistry also allows flexibility in choosing other classes that are of interest to me such as psychology and biology which are my minors.
What are your career goals?
After graduation, I hope to attend dental school.
Is there a professor who has been particularly helpful to you?
Dr. Scott, who I took for Chem 314 during my junior year, has made big impact on me during my time here. I took her class during the fall semester of my junior year and found every class to be enjoyable. Not only is she very funny, she is also a great person to talk to. She gives great advice and is very encouraging.
What is your go-to meal in Oxford?
Toyo's Brian roll and Mi&Tea's spring rolls are my favorites!
What is one thing you wish you knew as an incoming freshman that you'd tell your past self (about the general college experience)?
I wish I knew earlier about the various research opportunities in the Chemistry department.