Madison Nieder – Alumna Spotlight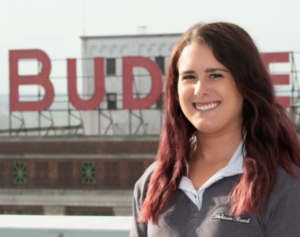 New Products Lab Manager, Anheuser-Busch InBev
Hometown: St. Louis, MO
BS in Forensic Chemistry, minor in Legal Studies (2019)
LinkedIn
When and why did you decide to major in forensic chemistry?
I really enjoyed chemistry in high school and knew I wanted to do something in that field. Forensics was always something that interested me so when I found out there was a forensic chemistry major, I thought it would be a great fit.
Please share some significant accomplishments or favorite memories from your time at UM.
My best accomplishment was when I got awarded a scholarship for my sophomore year. My favorite memories always involve the grove. I met my best friend in forensic chemistry and I'll be in her wedding this coming May.
I did my internship in the toxicology department at the Alabama Department of Forensic Chemistry. We did a lot of DUI drug testing. While I was there we were actually working on a road side drug test so I did a lot of data analysis for that. We looked at the results from the road side drug test (it used saliva) and then we compared them to their blood drug test to see how accurate it was. I was also able to go to a study performed to train people in the police academy where we went to the training facility and were given a certain amount of alcohol and then the police in training did the DUI tests on us to test their skills. Most of my day to day there was watching the scientist perform the drug analysis. At my specific facility, each scientist was in charge of a different instrument (immunoassay, LC/MS, chromatography, Real time PCR, etc) and they did they only did tests on that instrument so we got to shadow each person and then use the instrument on our own. Instrumental analysis really helped me during my internship. I also worked on uploaded the specs for different chemicals into their system so we had a list of drugs and researched the properties to then be loaded into their system so it would pop up whenever that drug was run through the instrument. There were actually 2 Ole Miss forensic chem graduates working there while I was interning there!
Describe your educational/career path since graduation.
After graduation, I moved back to St. Louis, MO and began working as a chemist with Anheuser-Busch and have been there since 2019. I am now the manager of the New Product Development Lab at AB. My lab develops any of the new beverages that Anheuser-Busch puts on the market including Bud Light Seltzers, Busch Light Apple, NUTRL, and many more.
What is the value of studying forensic chemistry in today's world?
I think forensic chemistry is an amazing degree to have. There's so many different job opportunities out there even if you decide not to work in a crime lab. Having the chemistry background really helps you get almost whatever job you want to have. Although I'm not in the forensic field, I still use the knowledge I learned at my job and in every day life.