Biochemistry Student Ambassador
Kimberly Vazquez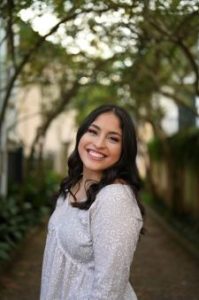 Kimberly is majoring in Biochemistry and minoring in Biology. She is a member of the American Medical Student Associations, UM American Medical women's Associations. Minority Association of Pre-Medical Students, and a Student Member of the American Chemical Society. She is an Undergraduate Researcher in the Department of Chemistry and Biochemistry. She is also an HPAO Ambassador.
Why did you choose to attend UM?
I chose to attend UM because it has a wonderful science department with wonderful professors who truly care about their students. It is also close to home, so I have been able to go home whenever I need an escape.
When and how did you choose your major(s)/minor(s)?
I chose my major in high school when I became a part of HOSA (Health Occupations Students of America). While in HOSA, I realized I wanted to be a part of the medical field and love science. I couldn't decide between biology or chemistry, so I decided to get the best of both worlds and study biochemistry.
What would you tell a high school student about your major? What is most important for them to know if they're interested in pursuing that field of study?
I think the most important thing to know is that it will not be easy but do not be afraid to ask for help. It is also not impossible, and if you really want to do something and have a passion for it, do it.
Why is your department a special place?
My department is a special place because they care about each student and want to see everyone succeed, which shows. You can tell the professors are super passionate about what they are teaching.
What do you hope to do after you graduate?
I hope to go to medical school and become a physician.
What is your go-to meal in Oxford?
Lemon pepper wings and fries from Wingstop with a big container of their ranch.
What are you binge watching or reading right now?
I am currently binge-watching 911 Lone Star.