Katherine Thomas – Alumna Spotlight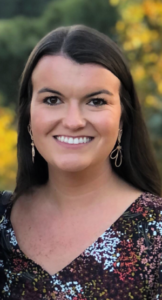 Laboratory Manager, Cobb County Georgia Forensics Lab
Hometown: Atlanta, GA
BS in Forensic Chemistry (2015)
LinkedIn
When and why did you choose forensic chemistry as a major?
I honestly was not 100% sure what I wanted to major in when I decided to go to college at Ole Miss. I am from Georgia and Forensic Chemistry was a part of the Academic Common Market in my state. I chose it thinking I would "try it out" and ended up loving it!
What were some of your favorite memories at UM?
One of my favorite memories was getting the opportunity to be a freshman chemistry lab TA. I loved teaching new students during a few labs each week. I also really enjoyed how the forensic chemistry program was close knit and I knew and was able to learn with every student in my graduating class.
Please tell me about your career path since graduation.
After graduating in 2015, I moved back to Atlanta and began working in a toxicology lab. I worked in the urine toxicology department for 3 years screening urine samples for drugs of abuse and alcohol for drug courts and pain clinics.
I furthered my career by taking an opportunity to manage the Cobb County Superior Court Drug Lab in Marietta, GA, which is where I currently work. We have an in-house screening lab and collect and screen urine specimens from probationers and accountability court participants for drugs of abuse. My job also includes going to court and testifying to the results that we report.
Why study forensic chemistry at UM?
The value of studying Forensic Chemistry is that the knowledge gained is never not going to be needed in this world.