Katherine Stasiak Hankins, MD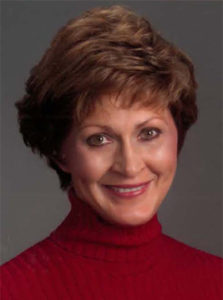 Psychiatrist
BA in Chemistry (1975)
MD in Medicine (1979)
Dr. Hankins is a physician trained in OB/GYN, family medicine, and psychiatry. She completed her OB/GYN residency at Wake Forest University Baptist Medical Center. After some years with her own practice, she decided to expand her expertise through a family medicine residency with Creighton University School of Medicine in order to provide more services to her patients. After seeing the mental health challenges of her patients, she again expanded her training through a psychiatry residency at Creighton University. Dr. Hankins was psychiatrist at University of Nebraska, Omaha, while also having a private practice. She has recently moved to Oxford and opened a private practice.
Dr. Hankins' career has been a progression of serving different people with unique medical needs; however, her work in collegiate mental health is impressive and impactful. She is an experienced speaker on college campuses, presenting material on a variety of relevant medical topics with special consideration given to mental health. While her professional and volunteer achievements are extensive, her dedication to following her medical passion into an area that serves collegians is truly outstanding.
Why did you choose your major?
I liked chemistry and I was a premed student.
What were some significant accomplishments or memories from your time at UM?
I was part of Alpha Lambda Delta honor society for students who have achieved a 3.5 GPA or higher during their first year or term of higher education; Phi Alpha Theta sorority; and Mortar Board honor society for seniors.
What is the value of your a liberal arts education in today's world?
Liberal Arts is the best education you can have to be successful in a changing, diverse world. Learn to deal with uncertainty and failure. Be flexible in your thinking, and and think quickly on your feet.
The following profile was written a few years ago by Brit E. Stack for the Alumni Association.
In January, Dr. Hankins started working as a collegiate psychiatrist for the University of Nebraska-Omaha, seeing and helping treat students with mental health issues.
Before starting her position, she treated patients at a private practice in Omaha for the past three years.
She said that she really became interested in practicing collegiate psychiatry in 2005.
"At that time, when I told people I was interested in collegiate psychiatry, I used to get these blank looks from people like 'what does a collegiate psychiatrist do? Why would a college need a psychiatrist?'" Hankins said.
She says she hasn't seen many of those blank looks since 2007.
"Then the Virginia Tech shooting was in 2007 and after those shootings, no one has asked me what a collegiate psychiatrist does," she said.
As a member of the American Psychiatric Association (APA), she is able to talk to other collegiate psychiatrists in their APA "collegiate mental health caucus." Composed of other collegiate psychiatrists from around the country, they are able to discuss some of the issues they see in mental health on college campuses.
"It's wonderful to have that association to be able to hear about issues, their problems, and how they solved it so it makes a very good networking opportunity in psychiatry," Hankins said.
Hankins was recently named a fellow of the APA, and was recognized in May at the association's annual conference in Philadelphia. The fellowship is recognition of her contribution in psychiatry and a recognition for patient care and service within her specialty.
While Hankins practices in Omaha, she continues to have very strong ties to Ole Miss. Her family has been at Ole Miss "for generations," including nine members of her extended family. Her father, Dr. Raymond Stasiak (BSCHE 43, PhD 84), was also a longtime professor in the chemical engineering department.
Besides family attendance, she is tied to the university because she is the chapter mother for the Beta Theta Pi fraternity. Her son, Richard (BA 09), was a Beta and invited her to meet his fraternity brothers. She and her husband, Jordan (BA 72, MD 75) wanted to support them in some way.
"My husband and I started working with the chapter, forming what we call Beta Parents, which is just a parents' club. But from that the members of the fraternity at the time said they didn't have a house mother and would I be interested in fulfilling some of the responsibilities, which at the time was more along the lines of being chapter hostess."
Hankins usually spends at least one weekend a month in Oxford, depending on what is going on in the fraternity. She is in town for about two weeks during Rush season – the week before and the week of – as well as for home football games.
Even when not in town, being the chapter mother can still keep her busy. She helps plan the chapter's social functions, Rush events, care packages at exam time, the senior farewell brunches as well as other smaller things throughout the year.
Hankins says that she couldn't just choose one – psychiatry or being the Beta chapter mother. She said both jobs are fulfilling in different ways, and working in psychiatry is how she gets her plane-ticket money. Without one, she couldn't have the other.
"The Beta house is strictly motherhood," she said. "I always wanted to have a larger family. It's just 57 sons is a little more than what I originally planned. They're all different, the personalities. They're just a tremendous amount of fun. Those guys are really sharp. Really terrific."