Biochemistry Student Ambassador
Kaleb Henry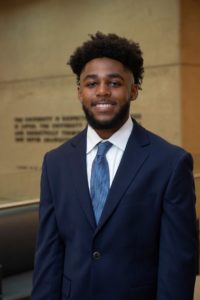 Kaleb is majoring in Biochemistry and minoring in Biology. He is a member of Ole Miss First. He loves to work out, play wiffle ball, and go bowling.
Why did you choose to attend UM?
Wanting to stay close to home, I decided to attend a university in Mississippi that is highly ranked in regard to chemistry. Because the University of Mississippi is ranked among the nation's top 40 undergraduate programs in chemistry and biochemistry, I ultimately decided to only apply to this prestigious university.
When and why did you choose your major(s)/minors?
Being fortunate to have many affable, concerned science teachers, I have always had a fondness for chemistry and biology; however, algebra was the first subject that I truly enjoyed. Chemistry is pertinent to many people's everyday lives, but chemistry also includes many applications of math. As a result, I chose biochemistry as my major and biology as my minor.
What would you tell a high school student about your major? What is most important for them to know if they're interested in pursuing that field of study?
Biochemistry is the science of life at the molecular level. It can be regarded as a homogenous mixture between biology and chemistry. Many pre-med majors typically choose biochemistry or biology for their majors because most individuals who take the MCAT achieve higher scores than people who major in other fields of study. Despite the association between being a physician and biochemistry, biochemistry offers many other future careers, such as a pharmaceutical chemist.
Is there a professor who has been particularly helpful to you?
Dr. Gerald Rowland's general chemistry II class had the most impact on me. The classroom environment was usually very lively, and I could tell immediately that Dr. Rowland was very knowledgeable about the field of chemistry. His teaching style was very fluid, and it became my preferred learning style. His course ensured that I made the correct choice in choosing my major.
What has been one of your most memorable or enjoyable moments at UM?
The most enjoyable moment for me at the university was going outside to play wiffle ball or football in front of Minor Hall after test days or just a long study session with a few friends.
What do you hope to do after you graduate? What are your career goals/ plans for post graduation?
After graduation, I hope to attend the University of Mississippi Medical Center in Jackson, Mississippi. Following graduate school at the academic medical center, I hope to pass the board exam and complete my residency so that I can choose a specialty, which is currently pediatrics.
Apart from school, how do you spend your time in Oxford? What are your hobbies, favorite places to go, etc.?
Besides spending much of my time writing notes, I like to work out at either of Ole Miss's gym facilities, and I spend many nights at the bowling alley Premier Lanes, which is connected to Malco Cinema Grill. Although I lose most of the time bowling, bowling and a movie is always my preferred leisure activity.
What is one thing you wish you knew as an incoming freshman that you'd tell your past self (about the general college experience)
The one thing that I hope that every college student knows is that time management is arguably the most important quality to have. Additionally, colleges are very spacious, so I wish I would have known to bring a type of transportation, such as a bike, to campus earlier than I did.