Jené Rauch – Alumna Spotlight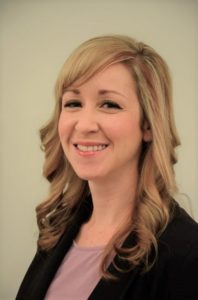 Lead Firearm Examiner, St. Tammany Parish Sheriff's Office Crime Lab
Hometown: Harahan, LA
BS in Forensic Chemistry (2007)
When and why did you decide to major in forensic chemistry?
Both my father and grandfather were law enforcement officers, and I had always been interested in a career in law enforcement. When I was in 8th grade, we had career day at school and a classmate's mom came and presented on her job as a forensic scientist. From that point on, I was hooked on forensics.
When I was looking for majors and universities during my high school years, there were no programs in Louisiana, so I was able to attend Ole Miss using the Academic Common Market. The forensic chem degree was a perfect fit for what I wanted to do in my career, and I liked that Ole Miss was far enough away that I was on my own, but close enough to drive home on the weekend.
As part of the forensic chemistry program, we were required to do an internship at a crime laboratory, I applied to the Jefferson Parish Sheriff's Office Crime Laboratory, the same crime lab where my classmate's mom was the assistant director. The internship went so well that I was hired by JPSO after graduation. I was able to work with her before she retired, which was a full circle moment for me.
Please share some significant accomplishments or favorite memories from your time at UM.
As far as the major, I remember it being challenging, and it required significant studying to master both the natural sciences and the forensic coursework. There was true comradery among the forensic majors who all knew each other, as we all had the same classes. I remember Dr. Godfrey's DNA class in particular. He made the class interesting and fun.
As far as memories, my favorite times were tailgating in the Grove and attending football games at the Vaught. I had never been exposed to tailgating at Ole Miss until my freshman year of college, and I loved all of the elaborate tents and dressed up fans. It was totally different to how they do football in New Orleans and Baton Rouge. As a New Orleans girl, I loved having Eli Manning as our quarterback my freshman year and seeing the Manning family regularly around town.
Describe your educational/career path since graduation.
I started as a Firearm Examiner Trainee with the Jefferson Parish Sheriff's Office immediately after graduating from Ole Miss in May 2007. I trained during the day and attended the police academy at night from March – December 2008, where I graduated first in my class. I completed my Firearm Examiner training in February 2009. Apparently, I like to stay busy because I then started my online Masters of Science through the University of Florida in 2009. The education I received at Ole Miss was instrumental to my success in that program, which I completed at the end of 2011.
I began working as an adjunct professor at Loyola University of New Orleans in 2013, teaching forensic science courses in both the Fall and Spring semesters, which I continue doing today.
In addition to my Firearm Examiner duties, I completed training and began working as a Bloodstain Pattern Analyst in 2015. In the summer of 2015, I was promoted to the Firearm Section Supervisor, and I was also put in charge of the Crime Laboratory Response Team that was tasked with responding to violent crime scenes, such as homicides and deputy involved shootings. In the summer of 2020, I was promoted to Supervisor of Forensic Identification, which included supervising the Latent Prints and Firearms sections, in addition to the Crime Laboratory Response Team.
Finally, I have a private consulting company, where I conduct independent casework, provide training in forensic science, and consult on forensic science related projects. Most recently I have co-taught coursework for the New Orleans Police Department, and I am part of a team helping a crime laboratory regain its accreditation. Also, I have filmed a few episodes of a true crime series. The film industry is new to me, but I enjoy showing the public how forensic science plays a key role in casework.
Please tell us a little about your current position.
I left JPSO in March 2022, and took a position as Lead Firearm Examiner with the St. Tammany Parish Sheriff's Office Crime Lab. They had not had a Firearm Section since 2017 so I am standing up the section, conducting casework, and training another analyst.
What is the value of studying forensic chemistry in today's world?
I think forensic chemistry is a terrific major because it is so versatile. It's a great degree for working in a forensic laboratory, because it provides a strong science background, as well introduces the instruments and techniques used in forensic testing. As a lab supervisor and professor at Loyola, I can tell you firsthand that having a science degree and exposure to the types of testing and equipment used in a forensic laboratory will definitely make you more marketable for a career in forensic science. Additionally, if you decide not to go the forensic science route, this degree puts you in a great position to attend medical school, nursing school, pharmacy school, or for a variety of other career paths, with the bonus of having taken some really cool classes.