Hannah Miceli – Alumna Spotlight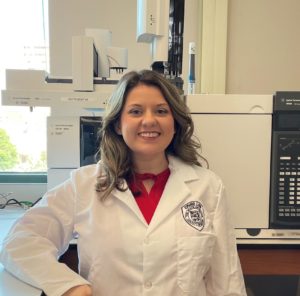 Forensic Scientist, Bexar County Criminal Investigation Laboratory
Hometown: Hammond, LA
BS in Forensic Chemistry (2018)
LinkedIn
Why and when did you decide to study forensic chemistry?
Growing up, I wanted to help people. However, the public facing aspect of the medical field and other career paths didn't appeal to me. Of course, I grew up with the onslaught of CSI and other investigative shows on television which captured my interest pretty quickly. Ever since I was little, solving puzzles and finding answers has been an interest of mine. That, paired with the less public facing aspect of forensic science, seemed like the perfect fit for me. Around my sophomore year of high school I had decided I wanted to go into forensic science, and by my junior year I had made the decision to attend Ole Miss based solely on there being an accredited forensics program as well as being far enough away from (but still close to) my family. Plus, the program requires an internship and research, which allows for hands-on experience that I found extremely helpful when it came to my endeavors after graduation.
What were some of your significant accomplishments or favorite memories at UM?
The courses weren't a walk in the park, but my classmates definitely made it easier. By the end of it, we had become pretty close, bonding over our shared experience in undergrad. As one of my electives, I took the Human Osteology course with Dr. Freiwald. I may not have been interested in osteology or anthropology as a career path, but I thoroughly enjoyed learning about the bones and doing mock digs to identify the different bones.
During summer 2017, I completed my internship at the Jefferson Parish Sheriff's Office Crime Lab. I spent 10 weeks there, spending time in the various sections (Evidence, Latent Prints, Chemistry, and Firearms). Going into college I was interested in Firearms or Arson Investigation. Following my internship, I really shifted my interest to the Chemistry section, further narrowing to Seized Drugs. This is how I got to where I am today. Having that hands-on experience definitely influenced my discipline of choice in the crime lab. I am so thankful to have been exposed to the various sections prior to graduating. Not many people get that during undergrad.
Please describe your educational/career path since UM.
I graduated in 2018 and started a job at the Bexar County Criminal Investigation Laboratory at the beginning of 2019. I am still employed there today. I work as a Drug Chemist at the BCCIL. We take evidence submitted by law enforcement agencies to determine if a controlled substance is present. This semester (Fall 2022) I started the Forensic Science Master's program, Forensic Investigative Sciences track, at Oklahoma State University.
What is the value of studying forensic chemistry in today's world?
The field of forensics is constantly evolving. There is always something new happening in the field and it's so exciting to learn new things throughout my career. With the way the degree program is set up, studying forensic chemistry at UM can lead you to so many different career fields. It is such a well-rounded program that gives you a range of knowledge to use in your career.