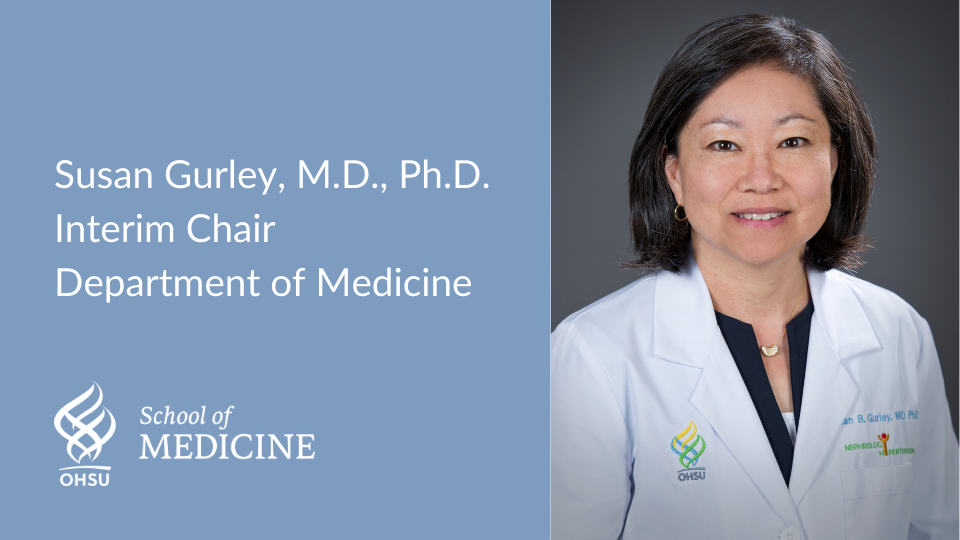 OHSU School of Medicine Dean Sharon Anderson has appointed Susan Gurley, M.D., Ph.D., (B.A., 1990, University of Mississippi; Ph.D., 1994, University of Mississippi) associate professor and division head of nephrology and hypertension, Department of Medicine, to serve as interim chair of medicine. Dr. Gurley succeeds David Jacoby, M.D., professor and chair of medicine and interim director of the Knight Cardiovascular Institute, whom President Jacobs has named interim dean, effective. Oct. 1. Dr. Gurley will retain her role as division head.
"It is with great pride and appreciation that I am appointing Dr. Gurley interim chair of medicine," Dr. Anderson said. "I recruited Dr. Gurley from Duke, where she had distinguished herself across missions. She has only continued to excel since arriving at OHSU in 2017, and I am thrilled that she will step up to lead the school's largest department at this critical time."
Dr. Gurley earned her Ph.D. from the University of Mississippi in 1994 and her M.D. from Washington University School of Medicine in 1998. She did a research fellowship and a clinical fellowship in the Division of Nephrology, Department of Medicine, Duke University Medical Center.
Dr. Gurley has a secondary appointment in the Department of Chemical Physiology and Biochemistry, OHSU School of Medicine. She also serves as a staff physician at the Portland VA Health Care System, is a member of the Graduate Studies faculty in the school, and was recently named associate director of the OHSU MD/PhD Training Program. She is an active member of the American Heart Association (KCVD Leadership) and the American Society of Nephrology.
Dr. Gurley studies the pathogenesis of hypertension and diabetic kidney disease. Her laboratory studies rely on mouse models of human diseases to dissect relevant pathways contributing to hypertension and kidney disease.
Dr. Jacoby, a celebrated researcher, educator and clinician, was recruited to OHSU from Johns Hopkins in 2003 as chief of pulmonary and critical care. He led the expansion of that division across missions and became interim and then chair of medicine in 2017 and 2018, respectively.
"I have been grateful for Dr. Jacoby's outstanding leadership as chair of medicine," Dr. Anderson said. "Drs. Jacoby and Gurley and I will work closely together to ensure a smooth transition. Please join me in congratulating them both. It has been my great honor to serve as chair of medicine and dean of the school of medicine at OHSU, and I am confident that both are in good hands going forward."