Gabe LaBonia – Alumnus Spotlight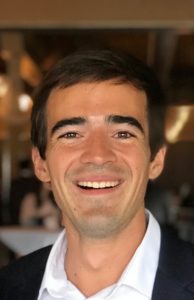 Engagement Manager with McKinsey & Company
Hometown: Cordova, TN
BS in Forensic Chemistry (2013)
LinkedIn
When and why did you decide to major in forensic chemistry?
Since I was young, I grew up in the lab – going to my parents business, an analytical testing laboratory in Memphis. I always enjoyed the problem solving aspects of analytical chemistry, working to develop unique solutions for individuals' problems. I also enjoyed the hands-on nature of the job and applying the scientific method in a hypothesis driven way. I was specifically drawn to the Forensic Chemistry major at Ole Miss for two reasons: the exceptional faculty I met, and the requirement for an internship in a crime laboratory.

What were some significant accomplishments or favorite memories from your time at UM?
While at Ole Miss I was able to get a well-rounded experience both within and outside of the Department of Chemistry & Biochemistry. I was able to start conducting research in the second semester of my freshman year and completed my Honor's College thesis within the department. This research experience served as a great foundation for my future PhD work. Outside of the Chemistry department, I was the President of the Interfraternity Council and involved in many leadership positions on campus. My senior year I was awarded Greek Man of the Year and the ASC Analytical Chemistry student of the year award.
After my junior year I did a 12 week internship at the Tennessee Bureau of Investigation (TBI) in Memphis. During the TBI internship, I was involved in multiple aspects of forensic chemistry doing rotations in ballistics, DNA profiling, and drug analysis. In ballistics, I worked with high resolution microscopy to match shell casing to firearms. In DNA profiling, I worked with crime scene evidence to profile DNA for database matching. In drug analysis, I identified and quantified collected drug evidence.
Please describe your educational and career path since graduation.
Following graduation from Ole Miss in 2014, I started my PhD in Bioanalytical Chemistry at the University of Notre Dame. I was well prepared for my graduate work and conducted my PhD research in the development of in-vitro models for colon cancer research. I was able to complete my PhD in ~3.5 years and took a job as a Management Consultant at McKinsey & Company in Chicago.

I have been at McKinsey and Company since 2018 and am currently an Engagement Manager. As an Engagement Manager with McKinsey, I lead teams of 3-5 consultant working on business problems for Fortune 500 companies. Although I do not apply the technical chemistry knowledge in my current role, I apply the problem solving and communication skills developed through my scientific training.
What is the value of studying forensic chemistry in today's world?
There are a multitude of careers that a degree in forensic chemistry can prepare you for – and you don't have to pick that out before you declare forensic chemistry as you major. If you want to learn practical problem solving approaches and work with some amazing faculty, then forensic chemistry is the major for you.