Forensic Chemistry Student Ambassador
Emilie Mai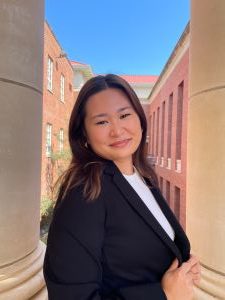 Emilie is pursuing a BS in Forensic Chemistry and double minoring in Biological Sciences and Spanish. She works as a Teaching Assistant for the UM Chemistry Department, providing support to students in the labs. She is a student member of the American Chemical Society. She is also a Student Ambassador for the UM Health Professions Advising Office.
Why did you choose to attend UM?
When I toured Ole Miss, I knew that this place was where I was going to go. There were so many different clubs and on campus activities, and the people were super nice! It was also not too close to home but not too far.
When and how did you choose your major(s)/minor(s)?
I came into Ole Miss with a major in Allied Health Studies, but I didn't know that was my major until the end of fall semester my freshman year. I knew I didn't want to do that certain major, so I did research into all the majors at Ole Miss. I ended up on the Chemistry page and saw they had Forensic Chemistry as a major. I love watching and listening to true crime shows and podcasts, so doing this major could help me know the science behind all of the true crime. With this major, I decided to minor in Biology and Spanish because biology and chemistry fit hand in hand, and I love learning and speaking Spanish. It's such a beautiful language!
What would you tell a high school student about your major? What is most important for them to know if they're interested in pursuing that field of study?
It is a fun time! Not many people major in Forensic Chemistry, so my cohort in this field are really close. We are able to ask each other anything since we take the same classes together.
Is there a professor that has been particularly helpful to you?
Biochemistry I & II. These two classes have been the hardest classes I have ever taken. They are both really interesting classes and have taught me to change my study habits. I would also like to shout out Dr. Scott for being really patient with me since freshman year!
What has been one of your most memorable or enjoyable moments at UM?
Studying with my friends before any exam. All the times we have studied have been really fun and productive. We laugh and crack jokes but are also very serious about learning what we need to know.
What do you hope to do after you graduate? What are your career goals/ plans for post graduation?
After graduation, I hope to go to dental school!
Apart from school, how do you spend your time in Oxford? What are your hobbies, favorite places to go, etc.?
I like to cook, watch movies, and play games with my friends at my apartment. I also like to host picnics at Lamar Park every once in a while.
What is one thing you wish you knew as an incoming freshman that you'd tell your past self (about the general college experience)?
Be yourself! Don't pretend to be someone you're not.