Dr. Qun "Tring" Zhu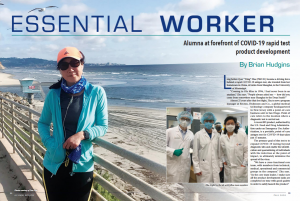 Alumna at Forefront of COVID-19 Rapid Test Product Development. Written by Brian Hudgins for Ole Miss Alumni Review
Long before Dr. Qun "Tring" Zhu (PhD 01) became a driving force behind a rapid COVID-19 antigen test, she traveled from her hometown in China, 60 miles from Shanghai, to the University of Mississippi.
"Coming to Ole Miss in 1996, I had never been in an airplane," Zhu says. "People always asked me — how did you come from somewhere near Shanghai to the Deep South?"
Almost 25 years after that first flight, Zhu is now a program manager at Becton, Dickinson and Co., a global medical technology company headquartered in New Jersey with a point-of-care business unit in San Diego. Point of care refers to the location where a diagnostic test is carried out. A recent BD product, authorized by the U.S. Food and Drug Administration under an Emergency Use Authorization, is a portable, point-of-care antigen test for COVID-19 that takes just 15 minutes.
The primary goal of this test is to expand COVID-19 testing beyond diagnostic labs and enable the identification and quarantining of individuals with the infection at the point of impact, to ultimately minimize the spread of the virus.
"We have a cross-functional core team, with members from technical, medical, operational and commercial groups in the company," Zhu says. "As the core team leader, I make sure all the product development tasks are completed on time with good quality in order to safely launch the product."

EMBRACING THE PROCESS
Scientists work long hours to move a product from lab to launch. It is a process Zhu has witnessed from both the scientist and program manager standpoint.
"I started doing point-of-care rapid diagnostics work as a scientist in the research and development group in January 2007," Zhu says. "Later, I became interested in leading projects. BD provided a lot of training and support to help me become a project manager."
As a project manager, Zhu participated in the full development of BD's rapid test for COVID-19, called the Veritor system, and was heavily involved in the product and process transfer from R&D in San Diego to China, where the product is manufactured. In 2012, BD's R&D Management Council bestowed the Wesley J. Howe Award, the highest companywide technical award, to Zhu and five of her colleagues for their contribution to product success.
In 2014, due to her husband's new career opportunity in Shanghai, Zhu relocated to China and went to work for AstraZeneca China. The couple moved back to the U.S. in 2017. Then BD asked Zhu to return to the company.
"I quickly accepted the offer from BD because I love working for BD," she says. "I am always attached to the point-of-care business unit and the Veritor products."
Zhu and her team experienced the same challenge many scientists and physicians experienced in the country when tasked with developing a rapid diagnostic test for COVID-19.
"We knew what the virus is and what proteins to target in the virus," Zhu says. "We just needed to develop a test with great performance in sensitivity and specificity as soon as we could. We started the development in March, and our product was launched in July. The urgency played an important role. We had a daily stand-up meeting every morning. We would review problems from the previous day, suggest solutions and execute the action plan.
"I called our core team 'Team Impossible' because we overcame numerous hurdles and made the impossible possible in a record time. Some of the scientists worked 16 weeks in the lab with no weekends. That is the intensity of the work. We had a team member who went to the emergency room after the (product) launch because of exhaustion. It has been a very unique experience."
Charles Hussey (BS 71, PhD 74), UM Distinguished Professor of Chemistry and Biochemistry, saw Zhu's dual skills as a researcher and team leader during her time as a doctoral student. Zhu earned her PhD in electrochemistry and analytical chemistry from UM in 2001.

"She is scientifically very bright and has a strong intuition, which is crucial to success in scientific research," Hussey says. "She also has a very unique leadership skill in that she can influence team members to pursue a research direction without actually giving them orders. I call this 'gentle leadership.' The best leaders have this kind of skill."
UM EXPERIENCE
Zhu earned her bachelor's degree in chemical engineering from Zhejiang University of Technology in Hangzhou, China, before she received a graduate research assistantship from UM and embarked on her journey there.
She was going to apply to the National University of Singapore, but her friend Zhuoli He, a postdoctoral fellow in chemistry at UM, convinced her to apply to UM.
"In the beginning, I struggled with the Southern accent," Zhu says with a laugh. "I could read and write English, but having conversations was a challenge at the beginning."
Her education included attending symposiums and conferences, such as a trip to a regional American Chemical Society meeting in New Orleans. Going to the Gordon Research Conference in New Hampshire every summer also gave Zhu insight into the tools needed to present to groups. The process included practice sessions where Zhu appreciated the feedback and training she received from Hussey.
"Dr. Hussey has high standards. He says, 'You are not ready,' and I practiced more until I was ready. Dr. Hussey taught me so much. He and the chemistry department gave me all the skills that I needed for future challenges."
Obtaining a PhD within the chemistry department also entails presenting a seminar to the entire department.
"You have to come up with PhD proposals, you have to prepare and learn how to present in front of a live audience," Zhu says. "The auditorium was big. I prepared until I was ready!"
After she completed her PhD, Zhu took an informal role as a UM recruiter. She recommended a couple of potential graduate students to the chemistry department.
"I did the screening," Zhu says. "I looked at their resumés and made sure they were truly interested in pursuing the PhD degree at Ole Miss."
Hussey notes Zhu could have excelled just as well if she had taken another path.
"Qun trained with me at Ole Miss in the area of electrochemistry and went almost immediately into an industry where she went to work on diagnostics product development based on electrochemistry concepts. I think she would have done well in academia too."
LIFE AFTER UM
Zhu's transition from student to scientist began in 2001, when she accepted a job as a senior scientist with Aclara BioSciences Inc., in Mountain View, California.
"My first job was doing R&D," Zhu says. "I was doing electrochemistry. Two years later, I moved to San Diego to work for a company which was later acquired by BD. In 2007, I joined (the) Rapid Diagnostics division (now called the Pointof-Care division)."
Although Zhu has been working in industry since she left UM, she is also passionate about teaching and coaching, particularly in program management and leadership. She was a certified instructor at BD for planning and leading projects, and while working for AstraZeneca China, she loved to provide training and coaching to the project managers.
Zhu lives in San Diego with her husband, son and daughter. When she is not working, she enjoys running.
"I love the outdoors," she says. "My goal is to run 80 miles every month. I run at least three times a week and try to do that after work outdoors. You can do that year-round here."
Running enables Zhu to ponder ongoing work projects and clear her mind when needed. She realizes the rest of the year will be spent primarily addressing COVID-19.
"Everybody is highly motivated, and people are exhausted," Zhu says. "I work from home, but I really admire and appreciate our scientists because they had to go to the labs and do experiments every day. Without them, we do not have a product."