---
BA chemistry and zoology '80
---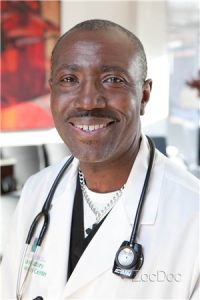 Dr. J. Steven Blake is a physician and owner of Blake Gastroenterology Associates, LLC in Philadelphia, PA.  He is also the current chair of the College of Liberal Arts Alumni Advisory Board.
Dr. J. Steven Blake was born in Columbus, Mississippi, but at the age of three he moved with his parents, Alfred and Irma Blake, and siblings to Peoria, Illinois.  The family returned to Clarksdale, Mississippi, a few years later where Steven was the valedictorian of his 1975 graduating class at Coahoma Agricultural High School. This historically black public school is located on the campus of Coahoma Community College, where his father taught automobile mechanics, and his mother served as a dietitian.  He went on to graduate from UM with degrees in zoology and chemistry in 1980.
After earning his medical degree from the Philadelphia College of Osteopathic Medicine (PCOM), Dr. Blake further studied at the University of Tennessee Medical School in Memphis, completed a residency in internal medicine at the hospital of PCOM in 1992, and fellowship in gastroenterology in 1994. The Osteopathic Heritage Health Policy Fellowship through Ohio University and New York Institute of Technology was completed in 2001.
Dr. Blake established Blake Gastroenterology Associates, LLC in 1996, which houses both the medical gastroenterology practice and the state of the art Mt. Airy Ambulatory Endoscopy Surgery Center, established in 2005.
He is a graduate of Leadership Philadelphia (a premiere leadership development program) class of 2004.  He sits on the Board of Trustees of the PCOM, has served on the Alumni Board of Directors for PCOM, and is a fellow of the Osteopathic Heritage Health Policy Institute. He is an assistant clinical professor in the department of medicine at PCOM, lecturing in the subspecialty of gastroenterology.  Steven has been chairman of the minority scholarship committee at PCOM. He is also a member of the National Medical Association and the National Osteopathic Medical Association (past national president 1998 – 2003); American Osteopathic Association; Pennsylvania Osteopathic Association; Pennsylvania Gastroenterology Association and of the Philadelphia County and Pennsylvania Medical Society. He is a member of Mt. Airy Business Association and the Philadelphia Chamber of Commerce.  In 2000 he was accepted by the National Registry of Who's Who as a life member.  He currently holds a staff position at Albert Einstein Medical Center. He is board certified in internal medicine, gastroenterology, and a fellow of the American College of Osteopathic Internists.
Dr. Blake continues to devote considerable time, money and effort to benefit high school students in his hometown of Clarksdale. With a strong history of giving back to his community, he endowed a scholarship in 2013 at Coahoma Community College in honor of his parents – committed to 'sharing his blessings.' Through his efforts to prevent colon cancer in his current hometown of Philadelphia or reaching out to provide cultural and educational opportunities to students in his childhood home in Mississippi, Steven's commitment to helping others extends far beyond his clinic.
"It's all about the community. It's all about reaching back."
Click here for a UM Alumni Association profile story.