Chemistry Careers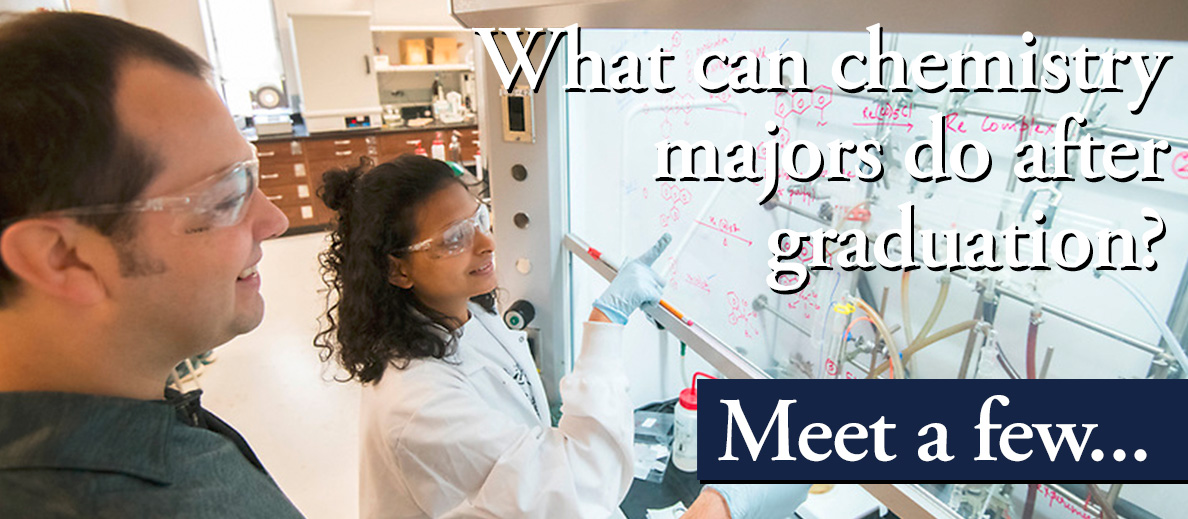 [RoyalSlider Error] Incorrect RoyalSlider ID or problem with query.
Chemistry Careers
Our graduates establish a wide range of careers and become leaders of their organizations because of the core set of skills at the heart of our liberal arts education.
A Bachelor of Science in chemistry provides you with a foundation that can take you into a variety of fields including health-related professions, the pharmaceutical industry, industrial or government laboratories, or teaching in college or high-school.
Thinking law school, pharmacy school, or just getting a job right out of college? Our degrees in chemistry and biochemistry will prepare you for these as well.

Our graduates are...
Patents Department, Coca-Cola
Teacher, Madison Ridgeland Academy
Chair of Dept of Medicine, Emory Univ.
Research Associate, University of Michigan
Faculty, Northwest MS Community College
Manager of Mass Spectromestrist, Harvard
Medical Director, Baptist Memorial Hospital
Physician, Tupelo Medical Group
Owner/Surgeon, Mass. Cosmetic Surgery
Psychiatrist, East MS State Hospital
State Training Coord., MS Public Health Lab
Research Chemist, US Army Research Lab
Refining Manager, Amoco Oil Refining
Exec. Therapeutic Specialist, GlaxoSmithKline
Senior Research Chemist, DuPont
Manager, Lockheed Martin