Alumni Spotlight
Susan Gurley, M.D., Ph.D., to serve as interim chair of medicine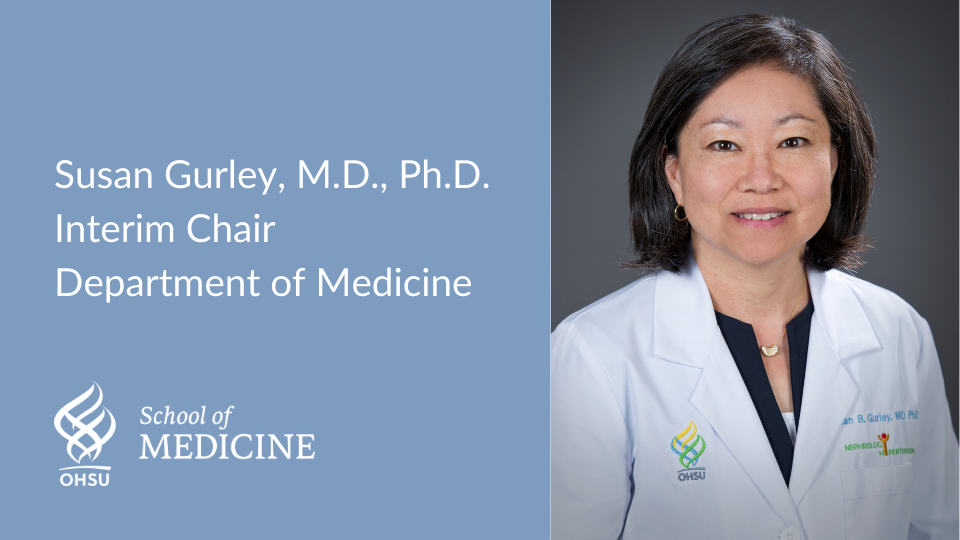 OHSU School of Medicine Dean Sharon Anderson has appointed Susan Gurley, M.D., Ph.D., (B.A., 1990, University of Mississippi; Ph.D., 1994, University of Mississippi) associate professor and division head of nephrology and hypertension, Department of Medicine, to serve as interim chair of medicine. Dr. Gurley succeeds David Jacoby, M.D., professor and chair of medicine and interim director of the Knight Cardiovascular Institute, whom President Jacobs has named interim dean, effective. Oct. 1. Dr. Gurley will retain her role as division head.
"It is with great pride and appreciation that I am appointing Dr. Gurley interim chair of medicine," Dr. Anderson said. "I recruited Dr. Gurley from Duke, where she had distinguished herself across missions. She has only continued to excel since arriving at OHSU in 2017, and I am thrilled that she will step up to lead the school's largest department at this critical time."
Dr. Gurley earned her Ph.D. from the University of Mississippi in 1994 and her M.D. from Washington University School of Medicine in 1998. She did a research fellowship and a clinical fellowship in the Division of Nephrology, Department of Medicine, Duke University Medical Center.
Dr. Gurley has a secondary appointment in the Department of Chemical Physiology and Biochemistry, OHSU School of Medicine. She also serves as a staff physician at the Portland VA Health Care System, is a member of the Graduate Studies faculty in the school, and was recently named associate director of the OHSU MD/PhD Training Program. She is an active member of the American Heart Association (KCVD Leadership) and the American Society of Nephrology.
Dr. Gurley studies the pathogenesis of hypertension and diabetic kidney disease. Her laboratory studies rely on mouse models of human diseases to dissect relevant pathways contributing to hypertension and kidney disease.
Dr. Jacoby, a celebrated researcher, educator and clinician, was recruited to OHSU from Johns Hopkins in 2003 as chief of pulmonary and critical care. He led the expansion of that division across missions and became interim and then chair of medicine in 2017 and 2018, respectively.
"I have been grateful for Dr. Jacoby's outstanding leadership as chair of medicine," Dr. Anderson said. "Drs. Jacoby and Gurley and I will work closely together to ensure a smooth transition. Please join me in congratulating them both. It has been my great honor to serve as chair of medicine and dean of the school of medicine at OHSU, and I am confident that both are in good hands going forward."

Dr. LaRico Treadwell
Dr. Larico Treadwell (B. S. Chemistry, 2010) was awarded a 2021 Black Engineer of the Year Award in the category of Most Promising Scientist. BEYA is a program of the national Career Communications Group, an advocate for corporate diversity, and is part of its STEM achievement program. The awards annually recognize the nation's best and brightest engineers, scientists and technology experts. Early on in LaRico Treadwell's life, he exhibited a keen intellect with a particular aptitude for science and engineering. He enjoyed taking things apart to see how they worked and experimenting with various foods and household chemicals to see what color/concoction resulted. Everyone, including the immediate family, recognized LaRico's inquisitive nature and destined him to be a leader and innovator. Today, LaRico is a R&D Chemist at Sandia National Laboratories, Advanced Materials Laboratory, where he is a Senior Member of Technical Staff mentoring a group of four post-docs, two technologists, and four undergraduates. LaRico graduated from South Panola High School with honors in 2006 and decided to attend The University of Mississippi as an Ole Miss First Scholar recipient. LaRico was initially interested in pursuing medicine. However, during his time at Ole Miss, LaRico became a Louis Stokes Mississippi Alliance for Minority (LSMAP-IMAGE), Ronald E. McNair, and Alliance for Graduate Education in Mississippi (AGEM) scholar. These programs introduce him to laboratory research by providing the resources and opportunity to work in the Laboratory of Jason E. Ritchie with a focus on hydrogen powered fuel cells. This experience solidified LaRico's commitment to pursing a B.S. Chemistry Degree and going on to graduate school. LaRico became one of the first African Americans to receive a B.S. Chemistry Degree at the University of Mississippi in 2010, as well as the first STEM bachelor's degree of his family (parents, three brothers, and sister).
After he received a B.S. Chemistry Degree from Ole Miss, LaRico enrolled in Louisiana State University PhD Chemistry Program as a Board of Regents Fellow. He was mentored by Prof. Julia Chan in Solid State Chemistry. Under Dr. Chan's tutelage, LaRico published multiple peer reviewed articles by developing impressive skills in solid state chemistry synthesis and with a focus on understanding the physical and chemical behavior of chemical moieties. While attending LSU, LaRico was President of the local National Organization of Black Chemist and Chemical Engineer (NOBCChE) Chapter and Chemistry Graduate School Council, amongst his numerous contributions and participation in local communities through outreach events. In 2015, LaRico J. Treadwell received his PhD which is the first in his family and subsequently accepted a Postdoctoral Fellow position at Sandia National Laboratories. As a Postdoctoral Fellow, LaRico Treadwell studied under Dr. Timothy J. Boyle to master inorganic synthesis of small molecules, fabrication of nanomaterials, and other material processing techniques for a variety of application including thermoelectric, circuitry, capacitors, and flywheels. During his tenure as a Postdoc, LaRico published numerous peer-reviewed journals and filed several patents (i.e., Synthesis and characterization of a series of nickel(II) alkoxide precursors and their utility for Ni(0) nanoparticle production. Dalton Trans. 2017, 46, 5806-5815 and "Nickel Metal Nanoparticle Synthesis". US Patent-Sandia National Laboratories: 2016, EFS ID: 26713667). In 2017 LaRico Treadwell accepted a position as a S&T R&D Chemist as Sandia National Laboratories. Upon becoming staff, LaRico was awarded an Early Career Laboratory Directed Research and Development (LDRD) award to investigate magneto-inks with an emphasis on increasing materials reliability in engineered devices. Currently, in this position LaRico's work covers the spectrum from basic materials discovery and characterization through applied materials reliability and device fabrication for a wide range of application such as radiation, ultra-high temperature systems, non-linear optics, and thermoelectrics. He is the leader of multiple research projects and has worked with a number of companies through the New Mexico Small Business Assistance Program, while also severing as a key team member on numerous other projects.
Additionally, LaRico serves in multiple programmatic roles contributing across the spectrum of Nuclear Deterrence Programs. He serves in leadership roles for materials analysis and compatibility for a wide spectrum of these critical national security programs. He continues to expand his research impact through research publications and is an inventor on over nine issued and pending patents. He is highly regarded as a mentor and currently has four postdoctoral fellows working with him as well as four student interns. LaRico's research group has delivered invaluable contributions to Sandia Mission in research through development of new materials as well as evaluating the reliability and corrosion of materials for a variety of applications. This work has been documented through reports, memos, and classified documentation. LaRico has also been recognized as a pioneer in Microwave synthesis and process. His current efforts have led to novel materials development such as the first report of a series of lanthanide metal alkanoates ("Synthesis of Metal Alkanoate and Metal Oxide Nanoparticles". US Patent-Sandia National Laboratories: 2020, US Appln. No.: 63/022,725.) as well as using microwave for energy efficient polymer infiltration and pyrolysis processing of high temperature continuous fiber reinforced ceramic composites. Along with his excellent technical work, LaRico contributes extraordinary effort to promote a diverse population at Sandia and truly give back to the community. This is highlighted by his role in eading CSI Dognapping for the last three years. This is a highly recognized community outreach program at Sandia that has garnered national recognition over its fifteen-year existence. LaRico led the planning and preparation of this program that provides science enrichment for nearly 500 4th graders every year. Additionally, he was recently awarded a Sandia Employee Recognition Award for Diversity for his efforts in championing diversity program across Sandia. LaRico is a key team member of the Black Leadership Council in establishing a recruiting pipeline (including a student intern experience) for students from Historically Black Colleges and Universities (HBCU). Through recent efforts LaRico has led the establishment of the S.T.A.R.T. HBCU program where he is currently mentoring the first two African American students from HBCU institutions on research internships. He continues his enthusiastic pursuit of developing young scientists and underrepresented minorities by being an active member and severing on the planning committee of the NOBCChE as well as participating in numerous outreach such as Hands-On, Minds-on Technologies program (HMTECh). LaRico is an active member in several professional societies, such as American Chemical Society (ACS). He is dedicated to public service given his numerous activities such as a YMCA basketball coach, youth football coach, and science outreach to local schools. Overall, LaRico's technical success has offered him an opportunity to reach beyond research to impact the development of the next generation of scientists and engineers with a focus on maximizing minority representation in STEM careers.
Prof. Shana Stoddard
Dr. Shana Stoddard, assistant professor of chemistry at Rhodes College and University of Mississippi Ph.D. graduate from 2013, was a 2021 recipient of the Mentor Award presented by the Council on Undergraduate Research's (CUR) Health Sciences Division. The division recognizes transformative mentoring and advising by higher education faculty across all subdivisions of health sciences—wellness, disease, health care, and health management—with awards in the early career, mid-career, and advanced career categories. Each award includes a cash prize and a certificate of recognition.
"I am truly humbled to receive the Council of Undergraduate Research Health Sciences Division early career mentor award," says Stoddard. "I am grateful to have a group of mentors myself who have not only equipped me to be an effective and engaging mentor, but who also helped open a space for me to be a mentor here at Rhodes College. Receiving this award just encourages me to be even more diligent in mentoring."
Stoddard's Molecular Immunotherapeutics Research lab at Rhodes is made up of a diverse group of stu
dents using a combination of computational chemistry, biochemistry, and cell-based assays to conduct research focused on improving patient outcomes with autoimmune disorders, cancers, neurological disorders, and coronaviruses. Several of Stoddard's students have co-authored papers published in journals.
"The greatest good you can do for another is not just to share your riches, but to reveal to them their own. This ideology perfectly represents Dr. Shana Stoddard's role as a professor and as a mentor to her students," says chemistry major Kennedi E. Fitts '21. "She encourages students to continue on whatever journey genuinely fulfills them. She does this by sharing the richness of her story—her obstacles and triumphs. She then utilizes such experiences to push her students to discover their own purposes. Through this, she impacts students on a personal level—one that forces them to understand themselves in a way they didn't before meeting Dr. Stoddard. She truly puts her entire being into making sure her students feel that they belong in the room—and if they don't, she provides them with the confidence to eventually come to that realization."
Stoddard received a Ph.D. in chemistry from the University of Mississippi in 2013 and went to work for St. Jude Children's Research Hospital as a Postdoctoral Research Associate in the Department of Radiological Sciences. She came to Rhodes in 2015 as a William Randolph Hearst Teaching Fellow and joined the Department of Chemistry as assistant professor in 2017.
Founded in 1978, CUR is an organization of individual, institutional, and affiliate members from around the world. Its mission is to support and promote high-quality mentored undergraduate research, scholarship, and creative inquiry.
Rhodes' Professor of Biology Dr. Terry Hill and Professor of Psychology Dr. Marsha Walton were awarded mentoring awards by CUR in 2020. Professor of Chemistry Dr. Loretta Jackson-Hayes is a 2021 recipient of the CUR Chemistry Division Outstanding Mentorship Award.
Dr. John Kelly
As a chemist working for UES Inc. at Wright Patterson Air Force Base, John Kelly (PhD chemistry and biochemistry 16) focuses on improving a warfighter's ability to detect chemical warfare in the field by optimizing and engineering novel solutions for imminent chemical weapons and terrorism. He uses state-of-the-art chemical identification and characterization sensors (gas chromatography-mass spectrometry or GC-MS) to survey the environment of a warzone. His most recent work is highlighted in the Journal of Chromatography A.
How/why/when did your interest in chemistry develop?
I was interested in chemistry as a National Science Foundation (NSF) recipient of the Research Experience for Undergraduates (REU) award in the Summer of 2008 after taking general chemistry in my undergraduate coursework at Georgia Southern University. This 8 week intensive research program focused on molten salt synthesis under the advisement of Dr. James Burgess. While the inorganic chemistry was interesting, I found myself captivated with how chemical analysis was performed and the technologies that are an essential part of everyone's daily life. Being able to look at lines or numbers on a computer screen and confirm or deny the presence of a single chemical was and still is remarkable!
Tell us some details about your years at the University of Mississippi.
I attended the University of Mississippi from 2011 until 2016 where I received my PhD in chemistry and biochemistry under the mentorship of Professor Nathan Hammer. It was in this research group that I found my passion and devotion to problems solving at the fundamental level using advanced chemical analysis techniques.
What comes to mind most when thinking about the beginning of my scientific career path is the repairs and maintenance of a mass spectrometer (the gold standard of chemical identification) in the basement of Coulter Hall. Not all of the components were commercially available and many elements were customized therefore the developing scientist inside me started asking the questions "what does this do?" "why not do it this way?" and "how can this be done better?"
The two things that I am most proud of from my time at the UM are not tangible, but are transferable skills: 1) problem solving and 2) scientific communication. Professor Hammer provided endless opportunities for me to be a part of collaborations that stretched from Yale and Johns Hopkins to Max Planck Society (which connected with me with my first research position after UM). These collaborations engaged different minds from around the work to demonstrate new capabilities using novel instrumentation for chemical analysis was born in physical chemistry but these problem solving skills are the same ones I use in my daily routine.
The artform of communication is a cornerstone of being a great scientist. As a graduate student, I recall manuscript revisions having more red ink than black toner however, Professor Gregory Tschumper (committee member) embedded the art of focused and concise scientific writing. These two skills have evolved since my time at the UM, but without those two key people I would not be where I am today.
What has been your path since graduation? What are your career goals? Discuss your research.
Since graduation, I have spent a few years working in Europe as an academic, a year in industry research and development, and a year in government research. Each of these appointments and positions broadened my horizon and revealed new parts of the chemical sciences that I never thought existed.
My first stop after graduation was a postdoctoral fellowship at the Universität Leipzig in Germany where I learned not only new experiment techniques, but more importantly a new perspective on how science and data should be shared and discussed at a professional level. By engaging in the German culture, I was encouraged to deepen my knowledge in the history of chemistry and gain appreciation for the developments that have brought us where we are today.
After leaving Europe, I was appointed as postdoctoral associate through the NRC Research Associateship Program at an Air Force Research Laboratory (AFRL) in San Antonio, TX. This position brought me back into the United States and gave me a unique insight into research under the Department of Defense. After finishing my appointment with AFRL, I joined a small team of engineers, computer scientists, and chemists at a non-profit research and development company out of Menlo Park, CA called SRI International. This was my first look at external grant writing where science was not only an accomplishment but a product. One year later, I went back to work at AFRL (Wright Patterson Air Force Base) as a contractor to focus on important problems that we face today as Americans. Chemical, biological, radiological, nuclear and explosive (CBRNE) threats are at the utmost of importance for our soldiers, airmen, sailors, and Marines.
Today, I am a part of a team that improves methods of detection of chemical warfare by gold standard chemical analysis.
Why should a prospective student consider coming to UM to study?
UM offers a unique opportunity to incoming students to get engaged with research at a very early stage in their educational career. I consider myself lucky to have had the NSF-REU opportunity in the summer after my first year of college. By being involved in research, I was able to have extra time with my professors and senior-level undergraduates for answering important questions in for my career like "should I try graduate school" "what is most important when considering my options after I graduate" "what jobs can I get if my terminal degree is a BS, MS, or PhD" and "where would are the jobs that would hire somebody with my skill set." UM allowed me not only to be a mentee to my graduate school advisor but also give back by being a mentor to undergraduate students in the research group.
Anything else you'd like to say.
Your education is an investment that will return profits based on the effort you give. No one will give you a grade. No one will give you a job. No one will give you a raise. You have to earn them. You have to push for them. And ultimately you should look back at your failures and account for these in your plan for success.
Qun "Tring" Zhu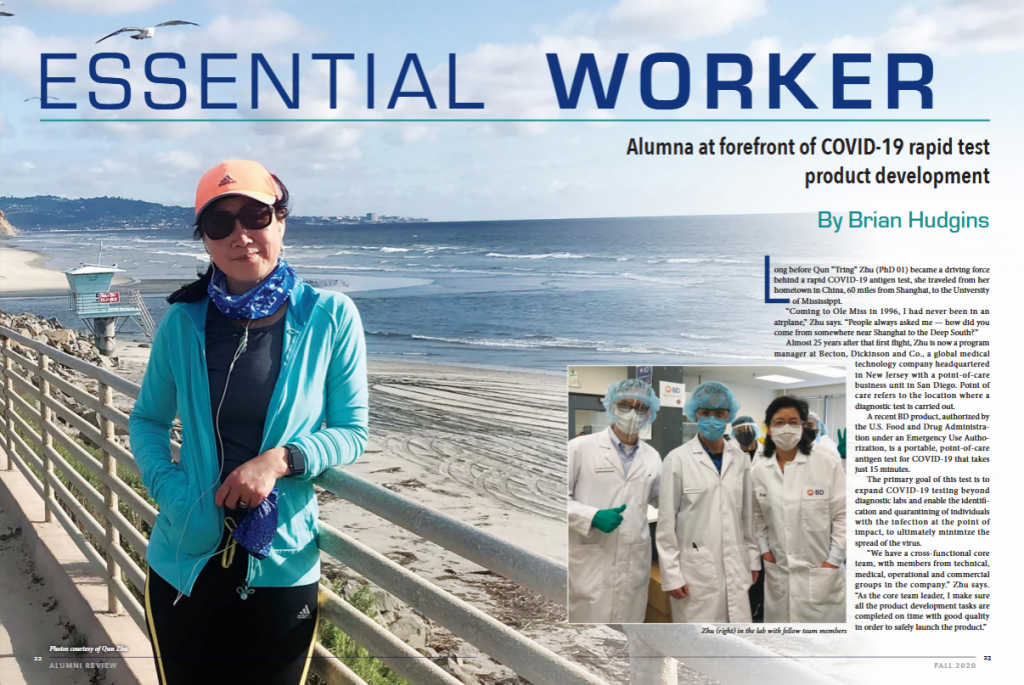 Qun "Tring" Zhu (PhD 2001) was featured in the Fall 2020 edition of the Ole Miss Alumni Review. Click Here for the full issue and full article. Zhu earned her bachelor's degree in chemical engineering from Zhejiang University of Technology in Hangzhou, China, before she received a graduate research assistantship from Ole Miss and embarked on her journey there. She was going to apply to the National University of Singapore, but her friend Zhuoli He, a postdoctoral fellow in chemistry at Ole Miss, convinced her to apply to Ole Miss. "In the beginning, I struggled with the Southern accent," Zhu says with a laugh. "I could read and write English, but having conversations was a challenge at the beginning." Her education included attending symposiums and conferences, such as a trip to a regional American Chemical Society meeting in New Orleans. Going to the Gordon Research Conference in New Hampshire every summer also gave Zhu insight into the tools needed to present to groups. The process included practice sessions where Zhu appreciated the feedback and training she received from Prof. Charles Hussey. Hussey (BS 71, PhD 74), UM Distinguished Professor Emeritus of Chemistry and Biochemistry, saw Zhu's dual skills as a researcher and team leader during her time as a doctoral student. Zhu earned her Ph.D. in electrochemistry and analytical chemistry from Ole Miss in 2001. "She is scientifically very bright and has a strong intuition, which is crucial to success in scientific research," Hussey says. "She also has a very unique leadership skill in that she can influence team members to pursue a research direction without actually giving them orders. I call this 'gentle leadership.' The best leaders have this kind of skill." "Dr. Hussey has high standards. He says, 'You are not ready,' and I practiced more until I was ready. Dr. Hussey taught me so much. He and the chemistry department gave me all the skills that I needed for future challenges." Obtaining a Ph.D. within the chemistry department also entails presenting a seminar to the entire department. "You have to come up with Ph.D. proposals, you have to prepare and learn how to present in front of a live audience," Zhu says. "The auditorium was big. I prepared until I was ready!" After she completed her Ph.D., Zhu took an informal role as an Ole Miss recruiter. She recommended a couple of potential graduate students to the chemistry department at the university. "I did the screening," Zhu says. "I looked at their resumés and made sure they were truly interested in pursuing the Ph.D. degree at Ole Miss." Hussey notes Zhu could have excelled just as well if she had taken another path. "Qun trained with me at Ole Miss in the area of electrochemistry and went almost immediately into an industry where she went to work on diagnostics product development based on electrochemistry concepts. I think she would have done well in academia too."
Zhu's transition from student to scientist began in 2001, when she accepted a job as a senior scientist with Aclara BioSciences Inc., in Mountain View, California. "My first job was doing R&D," Zhu says. "I was doing electrochemistry. Two years later, I moved to San Diego to work for a company which was later acquired by BD. In 2007, I joined (the) Rapid Diagnostics division (now called the Point of-Care division)." Although Zhu has been working in industry since she left Ole Miss, she is also passionate about teaching and coaching, particularly in program management and leadership. She was a certified instructor at BD for planning and leading projects, and while working for AstraZeneca China, she loved to provide training and coaching to the project managers. Zhu lives in San Diego with her husband, son and daughter. When she is not working, she enjoys running. "I love the outdoors," she says. "My goal is to run 80 miles every month. I run at least three times a week and try to do that after work outdoors. You can do that year-round here." Running enables Zhu to ponder ongoing work projects and clear her mind when needed. She realizes the rest of the year will be spent primarily addressing COVID-19. "Everybody is highly motivated, and people are exhausted," Zhu says. "I work from home, but I really admire and appreciate our scientists because they had to go to the labs and do experiments every day. Without them, we do not have a product."
Click Here for the full issue and full article.