Three chemistry majors received health profession awards from the HPAO for the 2019-2020 academic year.
Summer Jefferson
Community Difference Maker Award Recipient
I am a Biochemistry major with minors in Classics & Society and Health.My hometown is Cumming, GA. I am also a Stamps Scholar, a Taylor Medalist, a member of the Honors College, a member of Phi Beta Kappa, a member of Alpha Delta Pi, and Who's Who for 2020. Some of my most meaningful memories at Ole Miss have been engaging with the campus and local communities through Colleges Against Cancer, Rebels for International Health and Education, and Relay for Life. Academically, my professors have pushed and encouraged me to combine my interests and pursue research in food insecurity that I have been able to present at the Southern Rural Sociological Association's Annual Meeting (2020) and submit for publication in a journal. As a result, this award specifically means so much to me because of my extracurricular and research interests. During my gap year, I'm so excited to be working at the CDC again while I apply to med schools!
I earned a degree in B.A. Biochemistry with a minor in Psychology. I am from Brookhaven, Mississippi. I went to Mississippi School of the Arts for high school where I studied classical music and dance, and was awarded with Valedictorian, Hall of Fame and the Lindy Callahan Scholar Athlete Award. I am a first generation student, and will be the first doctor in my family as I am to attend the University of Mississippi School of Medicine next fall. At the University of Mississippi, I was selected for Who's Who, initiated into the Phi Kappa Phi Honor Society and graduated Magna Cum Laude. Through the HPAO, I was a student worker, the president of the HPAO Ambassadors and the PR Chair of the Pre-Med Mentorship Program. I volunteered in the Oxford community through the Leap Frog Enrichment Program, and at both the Baptist Memorial Hospital and MS State Veterans Home.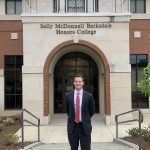 Andrew Groneck
Medical Service Award Recipient
I am a graduating Biochemistry major from Chesterfield, Missouri. I will be attending the University of Missouri School of Medicine in the fall.