B.S. Forensic Chemistry Degree
The mission of the Forensic Chemistry Program at The University of Mississippi is to cultivate young inquisitive minds into problem solving instruments that are prepared to meet the demands in the forever changing technological arena of forensic science.
From 2021-2023, thirty-four (34) students successfully earned the B.S. Forensic Chemistry degree. Of the 34 students, 30 reported being gainfully employed with 24 (80%) of those employed working in either a crime laboratory, closely related science field, or continuing studies in graduate or professional school.
From Spring 2006 – Spring 2021, the FEPAC accredited B.S. Forensic Chemistry degree was awarded to 174 graduates. Eighty-one percent of responding graduates reported employment in a forensic laboratory, graduate school, or scientific related field. Additionally, during the period of 2019-2021, nineteen of twenty-one students who began the junior year of the forensic chemistry degree program successfully completed and graduated with the Forensic Chemistry degree.
The B.S. in forensic chemistry is intended for students who are interested in careers as scientists in criminal investigation and law enforcement. Forensic chemistry applies analytical chemistry to aid the justice system in identification and quantification of substances collected at a crime scene. Students take relevant courses in chemistry and biology, study criminal investigation procedures, and undertake a summer internship in a crime laboratory. The students that choose forensic chemistry as a major are advised that the student must past extensive background checks prior to forensic internship and employment opportunities.
A major in forensic chemistry for the B.S. degree consists of the following 46 hours of chemistry courses: Chem 105, 106, 115, 116, 221, 222, 225, 226, 314, 331 or 334, 441*, 459, 469, 470, 471, 473, 512. *With prior departmental approval, 3 hours of Chem 463 may substitute for Chem 441.
Also required are Phys 211, 212, 221, 222 or Phys 213, 214, 223, 224; Math 261, 262, 375; Bisc 160, 161, 162, 163, and 336; Phcl 381; Chem 319 or CJ 415; one course chosen from CJ 230, 310, or 410; and one course chosen from Csci 251, Bisc 440,*** or Chem 580.
The following courses may not be used for major credit: Chem 101, 103, 104, 113, 114, 121, 201, 202, 271, 293, 381, 382, 383 or 393.
Other Academic Requirements:
Students must earn 30 hours in residence, which must include Chem 314, 441 (or 463), 459, 469, 470, 512, and Phcl 381. The capstone experience of this degree program (Chem 459) is a summer internship in a local, state, or federal crime laboratory.
ACS Certification: The addition of Chem 332, 401, and either 337 or 402 to the B. S. Forensic Chemistry curriculum (with 3 hours of Chem 463 instead of 441) satisfies the requirement for certification by the American Chemical Society.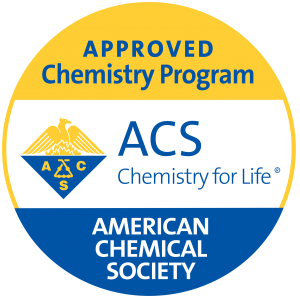 Click here for a recommended typical curriculum for the Forensic Chemistry Program.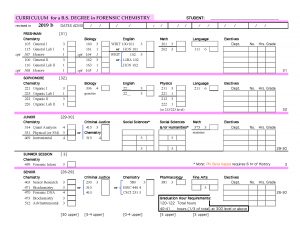 SAMPLE PROGRAM
| | |
| --- | --- |
| FRESHMAN YEAR | |
| Courses: | Hours: |
| General Chemistry (CHEM 105, 106, 115, 116) | 8 |
| Writing Requirement (WRIT 100 or WRIT 101 and either WRIT 102 or LIBA 102) | 6 |
| Biology (Biology 160, 161, 162, 163) | 8 |
| Calculus (Mathematics 261, 262) | 6 |
| General Electives (Social Science or Humanities) | 3 |
| | 31 |
| | |
| SOPHOMORE YEAR | |
| Courses: | Hours: |
| Organic Chemistry (CHEM 221, 222, 225, 226) | 8 |
| Genetics (BISC 336) | 4 |
| Foreign Language Requirement (111 and 211) | 6-12 |
| Physics (PHYS 211, 212, 221, 222 or PHYS 213, 214, 223, 224) | 8 |
| | 26-32 |
| | |
| JUNIOR YEAR | |
| Courses: | Hours: |
| Analytical and Physical Chemistry (CHEM 314 and 331) | 7 |
| Instrumental Analysis (CHEM 469) | 4 |
| Statistics (MATH 375) | 3 |
| Forensic Methods Course (CHEM 319 or CJ 415) | 3-4 |
| Criminal Justice Course (CJ 230, 310, or 410) | 3 |
| English Literature Requirement (ENG 221, 222, 223, 224, 225, 226, or 22X) | 6 |
| General Electives (Social Science or Humanities) | 6 |
| | 33-34 |
| | |
| SUMMER SESSION | |
| Courses: | Hours: |
| Internship* (CHEM 459) | 3 |
| | |
| SENIOR YEAR | |
| Courses: | Hours: |
| Biochemistry and Forensic DNA (CHEM 470, 471, 473) | 10 |
| Advanced Instrumentation (CHEM 512) | 3 |
| Senior Research (CHEM 441 or 463**) | 3 |
| Toxicology (PHCL 381) | 3 |
| Additional Science Course Requirement (CSCI 251 or BISC 440*** or CHEM 580) | 3 |
| General Elective (Fine or Performing Arts) | 3 |
| | 25 |
| | |
*Requires completion of Instrumental Analysis (CHEM 469)
**For ACS Certification
***BISC 440 (Molecular Biology) required for work in forensic biology and Fornesic DNA units